CONTROL SYSTEM FOR MODEL RAILROADS USING MÄRKLIN-DIGITAL-COMPONENTS, UHLENBROCK-INTELLIBOX WITH EXTENDED PROTOCOL, ROCO DIGITAL, FLEISCHMANN TWIN-CENTER AND LENZ DIGITAL PLUS 2.0 / 3.0/3.5
WIN-DIGIPET 9.0 is a far-reaching, intelligent and very user-friendly program to control model railroads, using Märklin-Digital / Uhlenbrock/Modeltreno Intellibox components.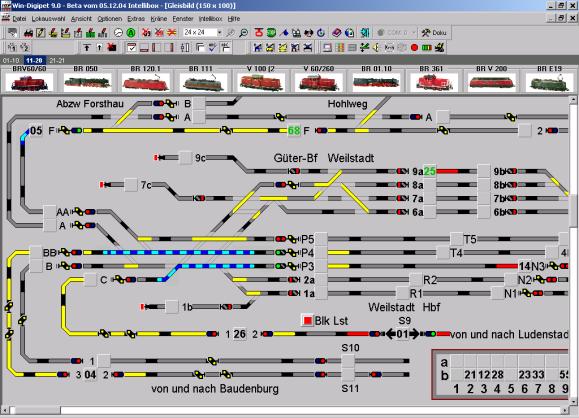 Easy data input and execution- even for the computer novice. WIN-DIGIPET 9.0 immediately points to the data in error.

Support of Uhlenbrock/Modeltreno INTELLIBOX with extended protocol.

Transfer speeds (baud rates) from 2400 to 19200
All types of loco decoder types such as Märklin (old and new Motorola-format), DCC (Lenz), Selectrix and Uhlenbrock can be used on one layout
Considerably faster track occupied messages using event interrogation
Feedback of solenoid devices and locomotives. Updates on screen possible


WIN-DIGIPET 9.0 is able to control even the biggest model railroad. The clear WIN-DIGIPET-Track diagram can display up to 200 track symbol fields (height & breadth). This represents a maximum possible representation of 40.000 Track symbol fields. Up to nine track diagram sections can be stored, accessed and displayed rapidly.


WIN-DIGIPET 9.0 offers 11 different symbol tables for the individual configuration of the track diagram. You can choose between the bright standard background or the German Railways correspondent black background, with black or white text for your track diagram and you can easily change later any time between the different symbol tables. In addition, WIN-DIGIPET 9.0 offers you for the first time the possibility to create

your own icons for your model railroad layout.

WIN-DIGIPET 9.0 uses the once keyed in data of the model railroad layout for its internal logical functions. This saves
the user complex and time consuming operations.

WIN-DIGIPET 9.0 not only displays the data of the locomotives, but also a colour picture.



375

locomotive illustrations are available to be used in the software. Beside this you may scan your own or import external illustrations from other databases.




WIN-DIGIPET 9.0 supports the HighSpeed-Interface of
Littfinski Datentechnik (HSI-88) for a faster read-back of
the feedback contact modules.




WIN-DIGIPET 9.0 supports HELMO Train-Number-Identifying-System by transponder method.

WIN-DIGIPET 9.0 supports external track layout switchboards via feedback keys.

Speed measurements in km/h for realistic adjusting of model railroad speed settings.

Automatic turnout-function-test.